We finally have an APP in LEWOLANG!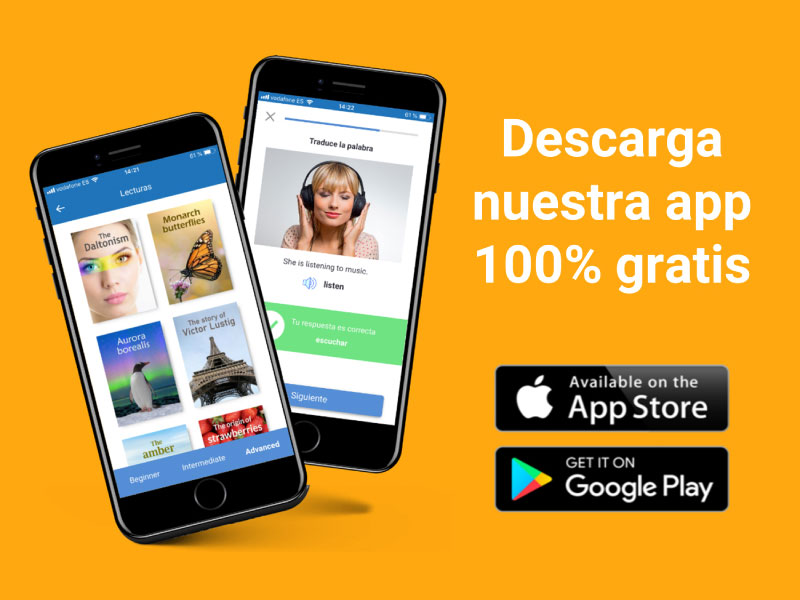 We are particularly excited about today's article because it is about the incredible FREE APP for learning English that we have created and that you can now download from GOOGLE PLAY and APP STORE.
We know that the mobile phone has become an indispensable tool in our daily lives. We use it to communicate, send information, listen to music, watch videos, solve situations related to our work or any other kind, and of course, to learn English.
Therefore, we have developed an APP where you can find everything you need to learn English from any place and at any time.
Who is our LEWOLANG APP aimed at?
The answer to this question is simply that our app is designed for anyone who wants to learn English in a fun way but without it becoming mere entertainment.
Students will be able to make the most of our application because the grammar contents we offer are the ones they work on at school and therefore, it will provide extra practice for those who need to reinforce their knowledge and for those who are already good at it, they will have the opportunity to consolidate what they have learnt in class.
Our APP is also aimed at all those people who, either due to lack of time or financial reasons, want to learn English or improve their English without any time limit and for free. In addition, those who are already attending academies or other language teaching centres can practice the knowledge they have studied in class and even extend it.
What does the LEWOLANG APP offer?
Our app is divided into four different sections: UNITS, COLLOCATIONS, PHRASAL VERBS and READINGS.
UNITS
This section consists of three LEVELS: BEGINNER, INTERMEDIATE and ADVANCED, and each contains 40 units.
Each unit provides notes explaining the grammatical structure in question. These notes are presented in a clear, simple and schematic way to make them easier to understand. In addition, many examples are given, supported by illustrations which reinforce the explanations, and to further facilitate the assimilation of the grammatical points, a schematic summary is given in the section called REMEMBER.
Apart from the notes, we offer two different sections, one dedicated to VOCABULARY and the other to GRAMMAR; in other words, in each unit we work on a group of vocabulary words and a specific grammatical structure, with the completion of a set of exercises.
In the VOCABULARY section, the words are reinforced by an image and a sentence that give context; we know that this way our brain assimilates the learning better. In addition, each word is voiced by native English speakers, so the user can hear exactly how it is pronounced. It is not enough to know the meaning of a word and recognise it when we read it, we have to be able to understand it when we hear it, which will lead us to be able to use it correctly, whether written or spoken.
In the GRAMMAR section we have a series of varied exercises which allow you to practise the grammatical structure explained in the notes. In this section the contents are worked on in different ways, one of them being oral comprehension, that is to say, the user can listen to different sentences in which the grammatical part studied is used, all this in order to approach this part in a more transversal way.
COLLOCATIONS
For those who are just starting to learn English, the word COLLOCATIONS may sound like Greek to them, but those who already have a certain level will know that a COLLOCATION is a group of two or more words that always go together and that sometimes do not follow the literal translation in another language. For example: "Set the table" in Spanish would probably be translated as "Put the table", as "put" is the verb they would use, however, in English that would be incorrect.
COLLOCATIONS are very important to be able to speak English like a native speaker and not like someone who simply translates from Spanish to English. It is a plus to take into account if we want to master this language.
This section consists of 15 blocks, each with 15 COLLOCATIONS. In each block a list is given, in which each COLLOCATION has its translation and definition, as well as a sentence reinforced with a picture. The user can first study the block and then practise with the exercises.
PHRASAL VERBS
For Spanish speakers, PHRASAL VERBS are a real nightmare, as they do not present, in our opinion, any logic whatsoever.
Let's start by explaining what a PHRASAL VERB is. Simply put, it is a verb that is accompanied by one or two prepositions, which modify the meaning of the verb, for example: "LOOK" means to direct your eyes to someone or something in order to see it, but "LOOK FOR" means "to seek"; "LOOK UP TO" means "to admire".
Native English speakers use PHRASAL VERBS a lot, especially in informal situations, and it is essential and very important that we know as many of them as possible.
Students in secondary school and A-levels study them, so they will find our APP a good way to learn a good number of them.
READING
The fourth section of our APP complements the other three and provides one of the language skills of learning English, which is reading comprehension.
Like the UNITS, this section is divided into three levels: BEGINNER, INTERMEDIATE and ADVANCED. Each level consists of different READINGS adapted to these levels, which can not only be read but also listened to, thus giving importance to listening comprehension.
The contents of our READINGS are varied and interesting so that, as well as learning English, we can broaden our knowledge of different subjects and curiosities.
Each READING offers the possibility of seeing the translation of any of the words that appear in it, so that if someone gets a little lost, they can consult the meaning of those words and thus follow and understand the text better.
The READINGS not only serve to improve our reading and listening comprehension, but also provide us with a wide range of vocabulary and allow us to see how different grammatical structures are used.
After each READING, a set of questions related to the text is given, which allows us to know the degree of comprehension we have obtained. This type of exercise is what many students have to do in their schools, so this section of our APP will be of great help to them.
APP LEWOLANG is not just a simple pastime, our aim is for users to learn English and for this reason our contents are designed with the utmost rigour and criteria, taking into account what any student or user needs to learn. However, this rigour is not incompatible with the fact that our application is fun and easy to use.
We encourage you to try it out and start enjoying learning English.
5 comments

Lewolang
replied:
---

Filiberto Castillo Medina
says:

Lewolang
replied:
---

Joseph jeyaraj nevins
says: