Why learning English by speaking?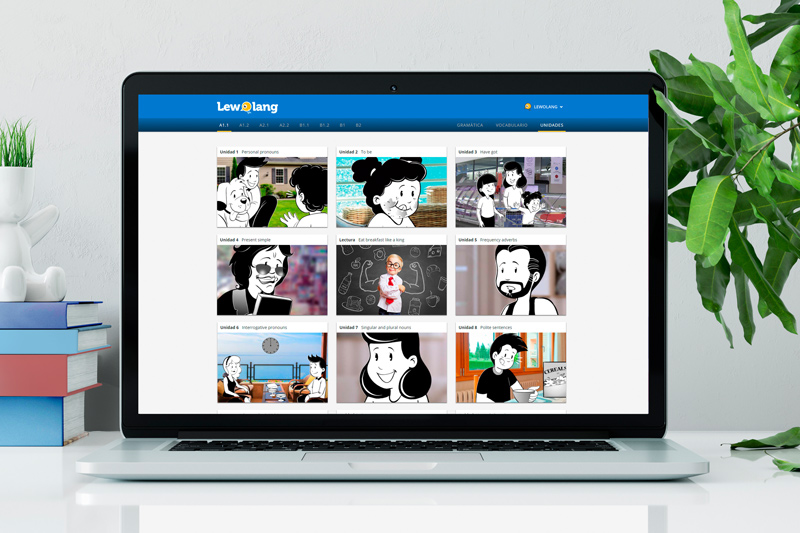 If you are learning English you will have realised that trying to memorise vocabulary and grammar rules, apart from being boring, just isn't enough. Even those of us who have a reasonable level feel self-conscious and frustrated when we can't follow a conversation with a native or can't make ourselves understood owing to our accent or pronunciation.
So for this reason, at Lewolang, we have designed an online English course that is also a tool for improving pronunciation. Apart from the impressive amount of diverse and interactive content included in the course (vocabulary list, dialogues, readings, test…) all of the exercises we have created provide the opportunity for listening and speaking. The information is contextualized visually by cartoons and scenic images throughout which, the user can listen to accompanying audios recorded by native locutors, speak and get feedback from the voice recognition system. The voice of the user is also recorded, so that it may be compared to that of the native and repeated as often as necessary to achieve perfect pronunciation to avoid embarrassment when using the language.
At Lewolang, English is learnt by speaking because the only way to achieve confidence and fluency is by improving listening comprehension and pronunciation. At the same time we wish to offer an alternative to other online systems with poor content, based on generic exercises translated into a multitude of languages. Ours, is a course that has been created and designed especially for Spanish speakers, its contents organised by level and topic, according the the C.E.F.R. for languages. What is more we give the user the opportunity to continually revise and evaluate the material studied by way of tests and revision sections but also to ensure that the acquired information is memorized. This way, at Lewolang, we have tried to maintain the rigorous classic method but at the same time find a better way to make learning a more enjoyable and satisfying experience.
If you are curious and would like to see for yourselves, on our website we have a free test for the course. Apart from this, we offer some of the resources we have created, with no obligation, in our buscador de gramática, a bank of interesting visual information and it's absolutely free. You can find it whenever you want here.