75 years of the United Nations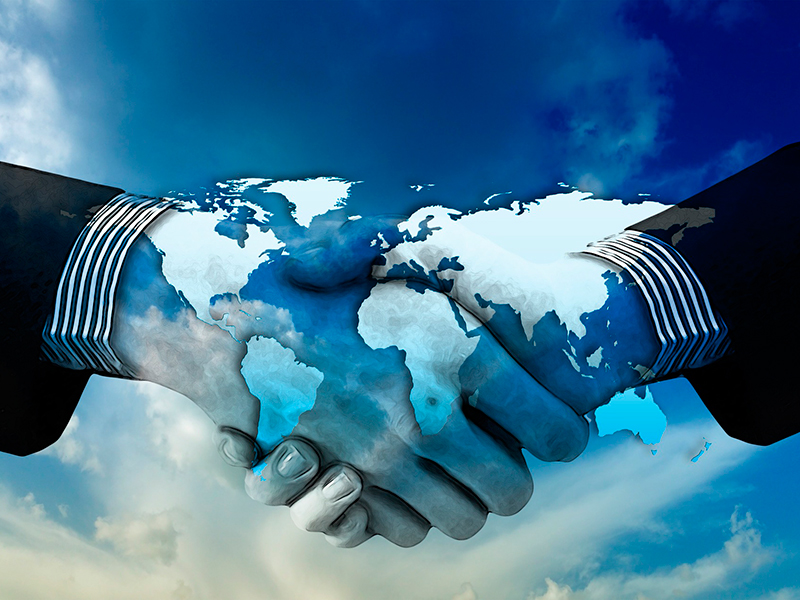 The United Nations International Day is celebrated every year on 24 October. The United Nations was created to maintain peace, promote friendly relations and encourage cooperation between nations to find solutions to global problems.
This year is special because it marks the 75th anniversary of the launch of this organisation.
Some of the issues on which this organization takes action are: Peace, security, sustainable development, climate change, human rights, health...
The name "United Nations" was coined by United States President Franklin D. Roosevelt in January 1942, in the midst of World War II. The governments of 26 nations pledged to fight together against the Axis Powers formed by Rome, Berlin and Tokyo and to formalise this alliance the "United Nations Declaration" was approved.
Dumbarton Oaks Conference
Once the Declaration was approved, the principles and purposes of this organization had to be established, as well as its structure, and all of this had to be approved by all member countries.
For this purpose a practical conference was convened in Washington, in a mansion called Dumbarton Oaks. The talks began in August and ended on 7 October 1944 and were attended by representatives from China, Great Britain, the USSR and the United States.
This conference resulted in a proposal for the structure of the United Nations organisation. A General Assembly and four different bodies would be created: A Security Council, an Economic and Social Council, an International Court of Justice and a Secretariat. It was determined that the Security Council would be responsible for preventing new wars and that to do so all the member countries should make their armed forces available to it.
However, one more thing remained to be solved: the voting process in the Security Council. To settle this delicate point, Churchill, Roosevelt and Stalin, together with their ministers and foreign heads of state, met in the city of Yalta in Crimea.
The Charter of the United Nations
In 1945, 50 countries met to draw up the text that would serve as the basis for the internal constitution of the United Nations and as the legal basis for a new stage in international relations.
This charter brought together different international treaties that already existed on matters such as maritime law, international law, and border law, among others. It defines the purposes and principles of the UN, as well as the procedures to be followed in the event of conflicts.
After many meetings to deliberate on the text of the charter, the final document was finally presented and signed by the representatives of 50 states, except Poland, which signed two months later because the Polish government had to take office first.
Even so, the Charter did not enter into force, as many countries had to submit it for approval in their respective congresses or parliaments. Once this procedure was completed, the UN Charter was ratified on 24 October 1945. The Charter has now been ratified by 193 coutries.
UN75. Forging our future together
This year, the objective of this commemoration has been to initiate a global dialogue, creating debates in different areas, such as education, business, associations or the media, among others. The aim has been to give a voice to as many people as possible so that they can express their opinions and contribute their knowledge to implement all those measures that are necessary to solve current and future problems.
Through UN75, the United Nations has tried to put all countries to work to define how international cooperation can help to achieve a better future for 2045, the centenary of the creation of the UN.
To do so, three questions were posed: What kind of future do we want to create? Are we on the right track? What measures are needed to close the gap? A toolkit was also offered showing how the talks should be conducted.
This kit had three steps:
1. Connect people.
It was intended to bring together diverse groups of people, especially those who are barely heard. Anyone could participate in the discussions: governments, schools and universities, private sector companies, cooperatives, trade unions and individuals. In addition, a number of guidelines and tips were given to make the dialogues useful.
2. Making voices heard.
This step was intended to open the necessary channels so that everyone could speak and be heard. So, in order to be able to participate in the conversations, several options were suggested, such as: Publishing the UN75 video on the participants' social networks, making and sharing the survey that the organization offered, organizing chats on social networks...
3. Inspire mobilization.
Its aim was to offer suggestions and to exchange and promote solutions. Each conversation was intended to have a certain influence on people so that on a personal level they could make changes to carry out what they had learned in these debates.
All the ideas and proposals that came out during all the discussions that took place this year were presented to the different world leaders and senior UN officials at a big event last September.
Let us hope that with the collaboration of everyone and especially those who have the power to implement all those measures that will lead us to a better future, we will be able to solve not only the different conflicts that exist worldwide, but also the health crisis of COVID-19, which is affecting us all.
1 comment

betty0118@hotmail.com
says: